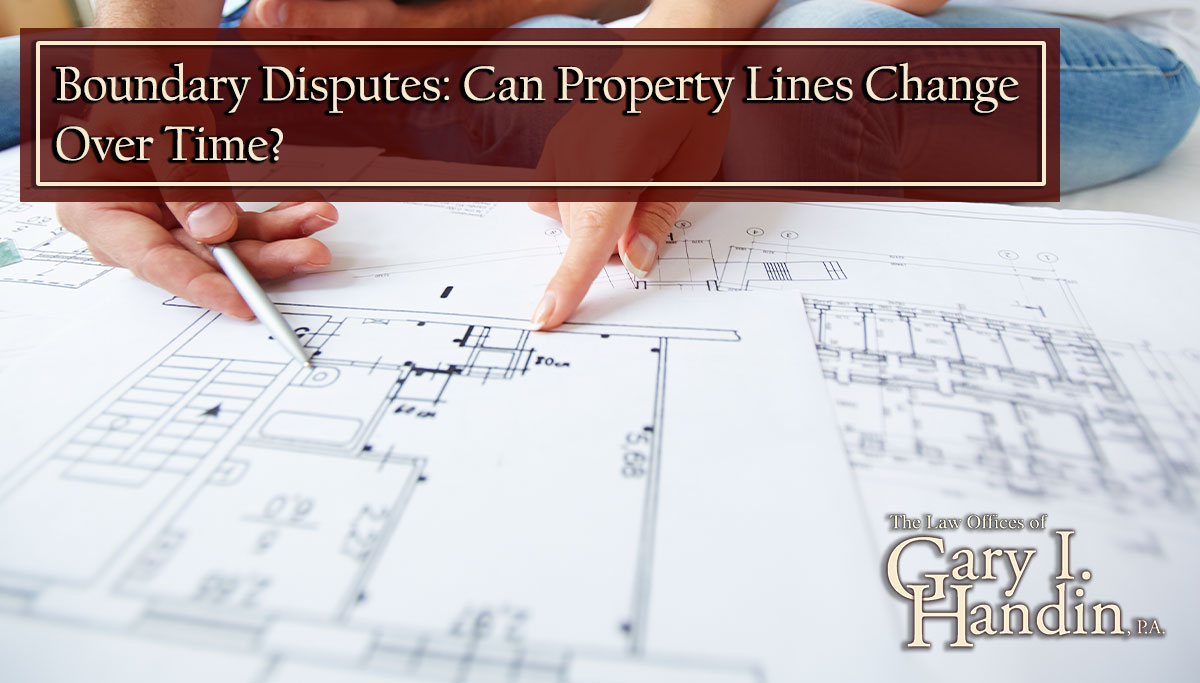 Bad neighbors are an unfortunate reality. While some people invite the family next door over for BBQ and sports games, others threaten a lawsuit. Boundary disputes, in particular, are a common disagreement that can lead to awkward moments when taking out the trash. So, what can you do about a boundary dispute, and how can the issue of property lines be solved?
While some boundary disputes can be solved over a drink, others may demand legal navigation. At Handin Law, we offer real estate legal services for those struggling with property lines.
The Basics of Property Lines
Property lines describe the legal boundaries of a plot of land. The deed of a property will stipulate the borders of the property.
Keep in mind that these boundaries can be adapted within certain circumstances, such as the following.
An agreement is reached about an uncertain boundary line
Through acquiescence (including implying consent by maintaining silence)
By estoppel or a prior legal decision outlining a current property disagreement
Adverse possession whereby an individual earns the right to a piece of land by using it for a specific period of time
Even with these possible reasons for change, there may be nuanced differences, so understanding boundary disputes is valuable.
Common Property Line Disputes
There are several different instances when a boundary line can lead to a disagreement. When the boundary lines are blurred, a number of disputes may arise.
Agreed boundary line disputes arise when boundary lines aren't documented. Particularly when a neighbor decides to move, renovate, etc.
Boundary line acquiescence involves a new boundary line being determined, overruling the boundary line stipulated in the property deed.
Zoning issues emerge based on zoning laws and are common in commercial property disputes.
Title disputes are a common issue among adjoining property owners who clash over who owns a piece of property.
Can Property Lines Change Over Time?
Florida real estate law offers clear ways to resolve boundary disputes which can be pursued after attempting an open discussion with your neighbor (or conflicting party).
If the law is on your side, then you can send a demand letter to your neighbor, or even proceed to court or try to reach a settlement.
While ironing out the kinks of a disagreement, it's possible that property lines can change. These changes need to be legally documented and confirmed in writing. A licensed surveyor can also help ascertain the boundary lines by placing official markers.
There are different ways to reset a boundary line, including the following.
Quitclaim Deed
A quitclaim deed is a written and signed legal document that is used to transfer the ownership of a property. Usually, it is used between a previous owner and a new owner.
A quitclaim deed can also be used to settle boundary disputes when owners of adjoining properties establish a clear boundary together. After agreeing on where they want it to be, the decision is confirmed in writing (with the help of an attorney).
Owner's Agreements
In some instances, the boundary line may be unclear in deeds or maps. Adjoining neighbors can agree on a new boundary line as long as the situation meets certain requirements, such as the following.
Genuine uncertainty about where the true boundary lies
Both landowners must agree on the new boundary line
An agreement should be reached to treat the new boundary line as the real one
The agreed boundary line must be visible on the ground
While a neighbor's agreement doesn't need to be in writing to confirm legality, doing so can avoid confusion and disputes in the future.
Court Decision
In the instance where the boundary line is unclear, and the owners can't agree, then the court may determine a boundary by using a court-ordered survey.
Legal Assistance You Can Trust
The Law Offices of Gary I Handin, P.A. has more than 50 years of experience in offering legal services to residents in Coral Springs, and beyond. Whether you're struggling with a boundary dispute, or any other real estate matter, we're a call away.
Contact us online today or call us at 954-796-9600 to book an appointment with a local real estate attorney.