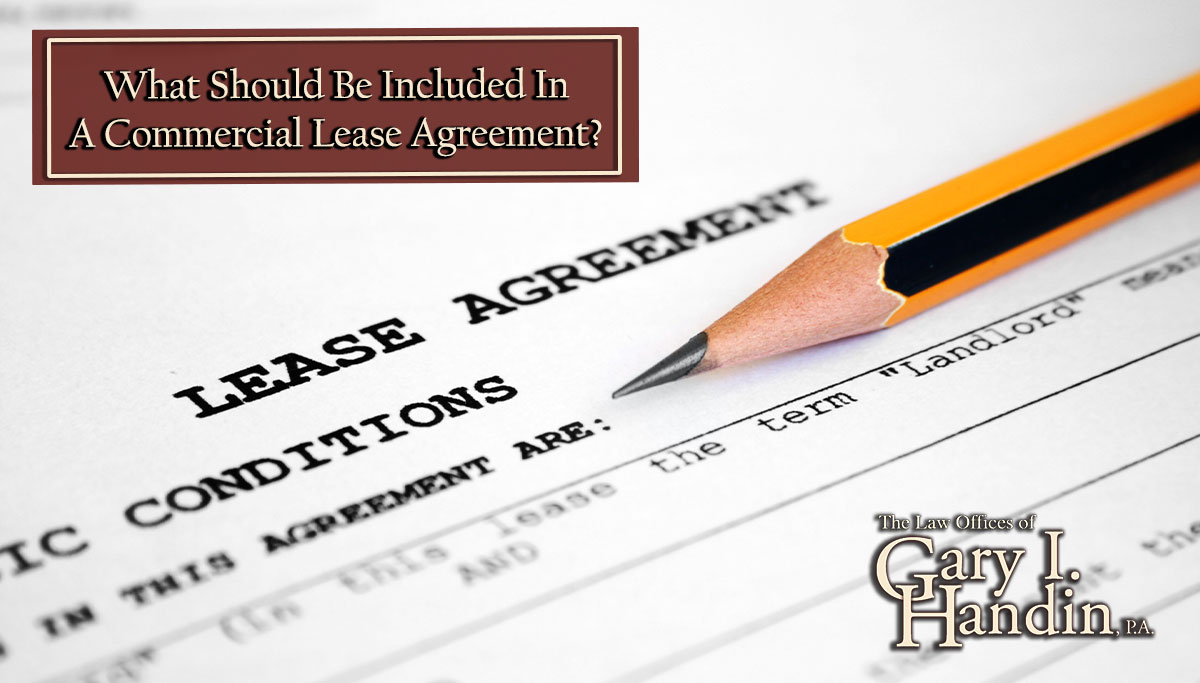 It's important to understand the foundations of a commercial lease agreement – whether your business is growing and it's time to move from your home office to formal office space or open a new business.
Leasing office or retail space can be a complex process, and it's important to make sure that you cover all of your bases. As a business owner in Florida, you should stay updated on what needs to be included in a commercial lease agreement.
Different Types of Commercial Lease Agreements
Not all lease agreements are the same. Depending on your needs, you may choose one of the following net commercial leases whereby the landlord and tenant split the cost of taxes, maintenance, and insurance.
Ultimately, there are three main types of commercial leases in Florida, namely;
Single net lease where the tenant pays rent and property taxes
Double net lease where the tenant pays rent, property taxes, and insurance costs
Triple net lease where the tenant pays rent, property taxes, insurance, and other building costs
The tenant and the landlord's financial responsibility depends on the specific contract.
What Should Be Included in Your Commercial Lease Agreement
The details of a commercial lease are usually more flexible than a residential lease agreement. There is space for conversation and negotiation. Yet the following should be outlined in the lease contract regardless of the specific details.
Basic Information
All commercial lease agreements should clearly state the property's physical address and the details of all parties involved in the agreement. The lease needs to be signed by both landlord and tenant to be valid.
Lease Term
The exact dates of the lease term need to be outlined, and renewal options for the lease. Keep in mind that commercial lease agreements are usually long-term, and the exit clause is normally quite strict.
Cost of Lease
The cost of the lease and rent increases (and how these increases will be calculated) should be in the agreement. The security deposit should also be stipulated, as well as the requirements to receive the money afterward. Request a breakdown of how all costs will be shared between landlord and tenant, including maintenance, insurance, property tax, etc.
Details of the space
The lease should outline all of the space that your business is leasing, including hallways and restrooms. If any general building rules and/or regulations apply, then they should also be spelled out.
Modifications
The process for improvements or modifications should be stipulated in the lease agreement. The financial responsibility for these modifications needs to be outlined, and the correct procedure dictated to reduce disruption. Even smaller details such as permission to hang signs need to be confirmed.
Subleasing
The lease agreement should explicitly state whether or not the business can assign the lease or sublet any of the areas and the circumstances and cost of doing so.
Handling disputes
While you always hope for a smooth, streamlined agreement, it's important to prepare for the opposite. The commercial lease agreement should mention how disputes will be handled, such as mediation or arbitration.
Commercial Lease Agreements in Florida
The legal structure of commercial lease agreements may differ from one state to another. In Florida, commercial lease agreements are largely governed by the following;
Commercial lease agreements do not provide the same level of consumer protection as residential lease agreements.
There is no standard form for commercial lease agreements as business requirements vary widely.
It's normal for businesses to negotiate the terms of a commercial lease agreement.
Many commercial lease agreements are long-term when compared to residential leases.
Terminating a commercial lease can lead to high financial costs.
Handin Law's Real Estate Services
Before you sign on the dotted line, it's important to get the guidance of a commercial real estate lawyer who is familiar with local law. At Handin Law, we're proud to have served Coral Springs and the greater Florida area in all business law and real estate law needs since 1993.
We're familiar with all of the details that need to be included in a commercial lease agreement, and we'll be the added guidance to sign your lease agreement with confidence. Contact us at (954) 796 9600 to find out more.