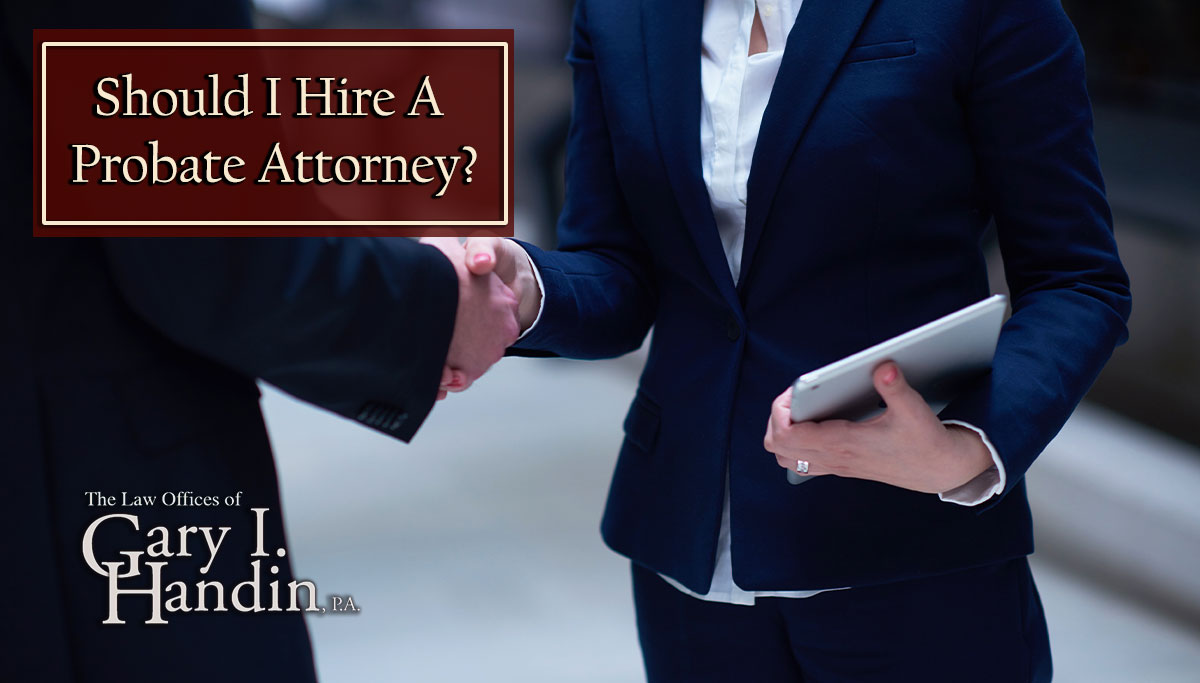 Many people do not understand what probate entails until they lose a family member. It is often only in these very difficult circumstances that people will first begin to ask questions about the role of a probate attorney and whether their family needs one.
Attempting to wrap your head around the complex probate process while you are in the midst of grief can be confusing and challenging – which is why we've set out a short list of factors to consider when deciding whether you need to hire a probate attorney.
What Is Probate?
It is difficult to understand the role of a probate attorney and whether you need to hire one without first grasping what probate is. When a person dies with a will, probate is the legal process by which their will is verified before a court, and their assets are distributed to the beneficiaries named therein. When a person dies without a will, probate is still necessary.However, the proper beneficiaries of their assets are determined by Florida Statutes through the probate court in the absence of a will.
When a person has died with a will, their will usually stipulates who must act as the estate's personal representative (or executor). It is the personal representative's responsibility to complete the probate process and ensure the assets of the decedent (the deceased person) are properly distributed. Often, a family member is nominated as the personal representative. In these cases, the family member will usually hire a probate attorney to assist them through probate.
Is Probate Required?
The first step to considering whether you need to hire a probate attorney is to ask whether probate is required. It is important to note that probate laws differ from one state to another.
Generally, Probate is required if the deceased person has assets in their own name that need to be distributed to their heirs. However, by consulting with an experienced probate or estate planning attorney, you may be able to avoid the cost and time involved in probating an estate. An experienced estate planning attorney will guide you as to the several methods to accomplish the disposition of your property upon your death without the need for Probate.
Under Florida probate law, there are certain types of probate required under certain circumstances:
summary administration;
disposition without administration; or
Formal administration.
Summary administration applies when the estate is small – less than $75,000 – or the decedent has been deceased for more than two years. Disposition without administration occurs when a person's estate only has enough funds to just about cover funeral expenses and their final medical bills but is not subject to any creditors' claims and does not include any real property.
Representing The Personal Representative
Once it has been determined that probate is required, then it is almost always the case that a probate attorney must be appointed. If you have been nominated as the personal representative of your loved one's estate, then you will need to appoint a probate lawyer to represent you in terms of Florida's probate rules.
There is good reason for this rule: probate is a complex process that involves filing petitions to court and formally notifying beneficiaries that probate has commenced; creating a comprehensive inventory of all assets; determining which expenses and claims the estate is required to settle and distributing the residual assets to beneficiaries in terms of the will.
The notices, forms, and documents which the personal representative is required to prepare require detailed legal knowledge and experience, and for this reason, it is strongly recommended that the personal representative hire a lawyer to assist them through the process.
Is Probate Litigation On The Horizon?
Although, in most cases, you will be required to hire a probate attorney in any event, having the advice of a lawyer to guide you through the process is particularly important when probate is contested, and the validity of the will is challenged.
If you have been nominated as the personal representative and you foresee potential legal challenges or family litigation over the will, it is important that you contact an experienced probate litigator as soon as possible.
An experienced attorney can help settle the dispute early to prevent costly, lengthy probate proceedings and ensure that you are given the best representation should a probate hearing become inevitable.
Assistance With Complex Estates
The experience which probate lawyers bring to the table is invaluable for several reasons. They can help assess the validity of creditors' claims and ensure that only creditors' claims which meet certain legal requirements are paid out. They can assist with determining whether federal estate taxes need to be paid on the estate and will ensure that the surviving spouse receives what they are legally entitled to under Florida law. Most importantly, probate lawyers have a detailed knowledge of probate procedures, which means that probate will be completed quickly and efficiently.
An Experienced Probate Attorney Makes All The Difference
By hiring an experienced and reputable probate attorney, you'll be saving yourself from delays, wasted expenses, and prolonged administrative burdens during your time of bereavement.
At the Law Offices of Gary I. Handin, P.A., we have assisted hundreds of South Florida's families through the emotionally difficult and administratively complex process that is probate.
Contact us at 1-877-815-4560 today to find out how our compassionate, experienced team of lawyers can assist you during this difficult time.