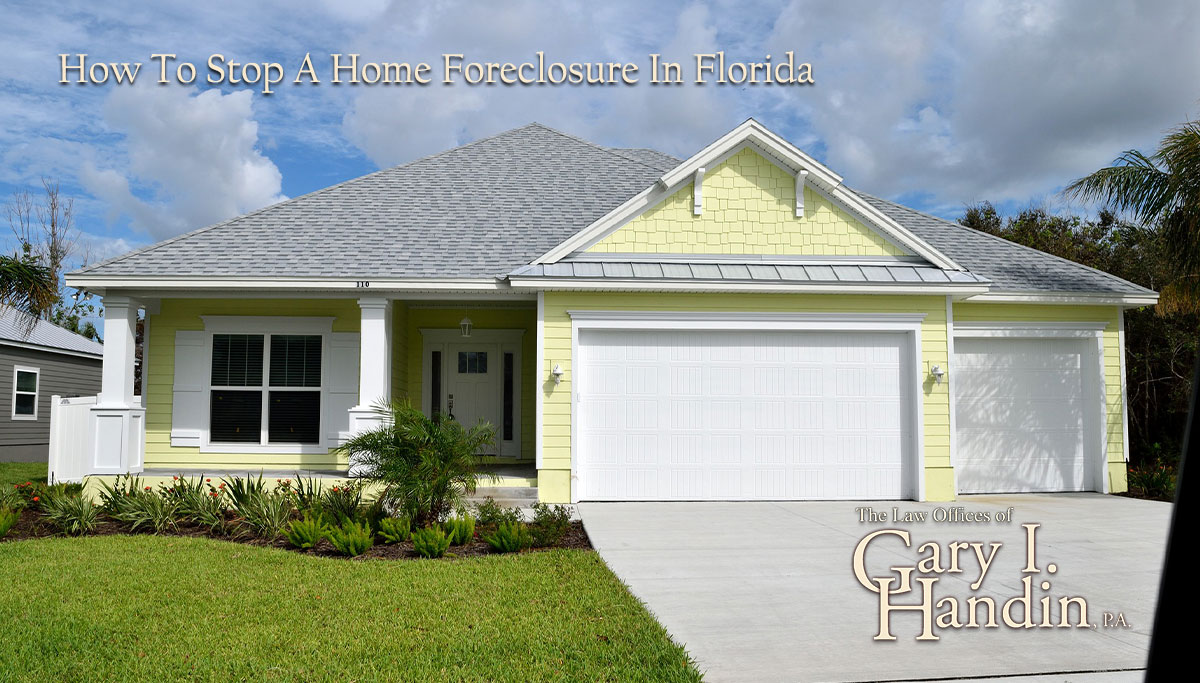 Sometimes life circumstances change, making it difficult or impossible to afford mortgage payments on your home. In a worst-case scenario, you may face foreclosure if you have a prolonged inability to make these payments. Florida happens to be a "judicial foreclosure" state – that means that a bank must seek approval from a judge before a home foreclosure can happen. The case must be filed in a court in the same location as the property and conducted by what's called a "court of equity."
As the homeowner, you will have a chance to challenge the foreclosure, even if it's already been scheduled. A foreclosure defense attorney can explore any additional options to stop it while you still have time. Rest assured, you don't have to go through this stressful experience alone; the attorneys at Gary I. Handin, P.A. have your back.
Florida Home Foreclosure Trial
There is no jury involved in Florida home foreclosure cases. Instead, it's up to a judge to make the final decision, and you as the homeowner will have the ability to persuade him or her. But you shouldn't do this on your own without explicit knowledge of real estate law. Your attorney will advise you on the best way to argue in your defense.
The "Unclean Hands" Defense
One common way to prevent home foreclosure is using the "unclean hands" defense, in which you can prove interference or wrongdoing by your bank. If your bank interferes with enforcing the loan for your house, you can win your case. But this can be difficult without a knowledgeable attorney, who will have the resources to prove this claim. In this instance, you may want to contact a law firm that specializes in foreclosure defense.
How To Prove Unclean Hands?
You'll need to establish evidence of illegal or fraudulent activity in the transaction with your bank. Another alternative is to prove wrong conduct on behalf of your mortgage company. But here's where it gets more complex: improper conduct alone is not enough to deny foreclosure. You must also prove intent to cause harm. Furthermore, the harmful conduct must be directly connected with your inability to make payments on your mortgage.
No Notice of Default
There is usually a bank requirement included in the mortgage agreement that homeowners must be notified if their loan is in default – typically in the 22nd paragraph. The homeowner must be made aware of the actions they can take in order to correct the default no less than 30 days prior to the foreclosure. Once you begin your affirmative defense, the bank must prove that they notified the homeowner, all while complying with the conditions outlined in the mortgage agreement.
Prevent Home Foreclosure in South Florida
No one wants to face foreclosure. It's not only damaging to one's credit but a devastating emotional event. To avoid losing your beloved home, you'll need the expert services of a real estate attorney who specializes in foreclosure defense. Even if you have defaulted on your house payments, there are a variety of ways to avoid foreclosure: renegotiation, short sales, modifications to your loan, and deeds-in-lieu, for starters. Your lawyer can explain these options to you, and recommend which one works best for your situation.
We at Gary I. Handin, P.A. have only your best interest at heart – we don't want you to lose your home either. Our experienced, knowledgeable, and compassionate staff will work with you to give you the best advice and protection during these stressful circumstances. With over 50 years of legal experience, rest assured that your home's future is in the best possible hands. To start with your foreclosure defense, mortgage workout assistance, or ask questions, call us today at 954-796-9600.