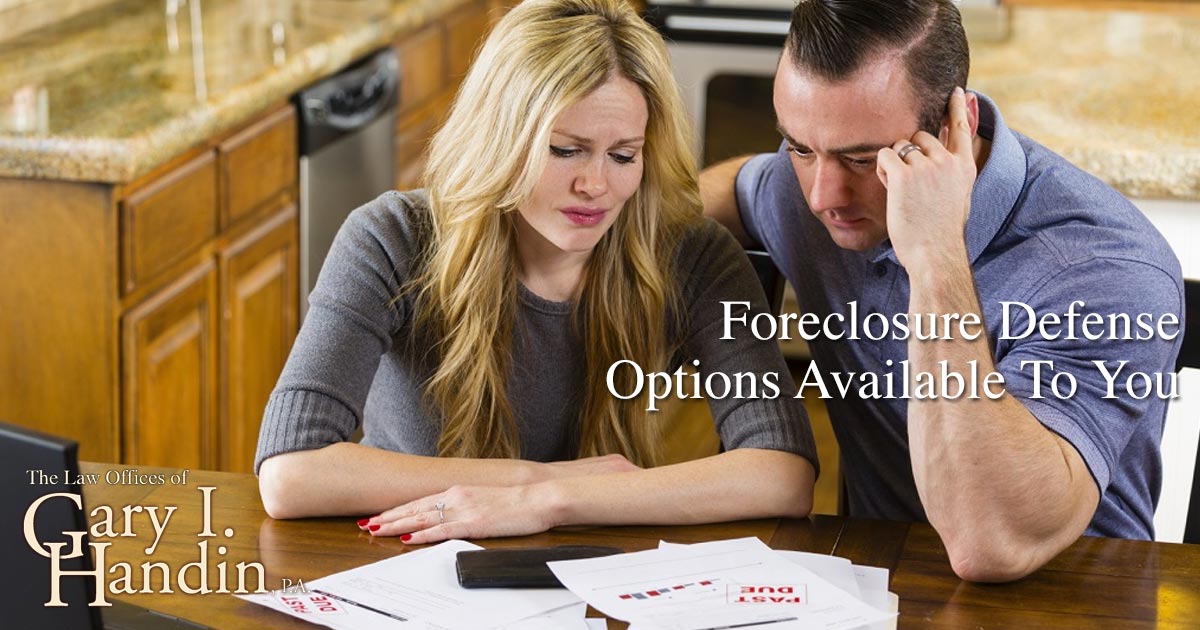 It is never easy hearing that your home might be foreclosed. Before throwing in the towel and searching for a new place, equip yourself with knowing the facts of foreclosure defense options.
Types of Foreclosure Defense
By enlisting the help of an experienced foreclosure attorney, such as Gary I. Handin, you can raise one of the following defenses in court to prevent foreclosure of your home:
Foreclosing Party Can't Prove Loan Ownership

Mortgage debt is often sold to other banks or third parties and the original promissory note might not be in the possession of the foreclosing party. You can request the party to produce the note to prove that they own the debt and have legal authority to enforce foreclosure. This defense has become more difficult to prove with banks and investors taking precautionary steps to ensure that all paperwork is complete and all gaps covered.

Lender Has Unclean Hands

If any fraudulent, illegal, or unrighteous activity was conducted by the lender, this would prove unclean hands by the lender. The court may decline the foreclosure request if there is documented proof of this activity.

Active Military Duty

The Servicemembers Civil Relief Act (SCRA) protects service members who are/were on active duty prior to signing the mortgage loan. One of the conditions provisioned the SCRA is that a court order or waiver is required prior to your home being sold. The sale would also be considered invalid if the transaction takes place while you are on active duty or one year thereafter. In the event that you don't respond to a foreclosure lawsuit, a default judgment could be granted by the court. You have the opportunity to reopen the judgment within 60 days after your active duty ends or if the judgment was passed during your active service.

State Procedures Not Followed

Florida has a specific set of procedures that a lender has to follow before instituting a foreclosure. If these steps are not followed, the court may rule that the foreclosing party needs to start the proceedings over.

Mistakes Were Made By The Mortgage Servicer

Common mistakes made by a mortgage servicer while handling your account include:

Excessive fees or fees not approved on your mortgage contract was charged
Payments incorrectly allocated to another party instead of your account
Overstating the amount payable to reinstate your mortgage

Prior Communication Before The Lawsuit Was Filed

Most mortgage agreements require a lender to contact you several times before initiating a lawsuit. This also means providing you with an opportunity (in writing) to settle missed payments.

Confirmation Of Your Payment History By The Lender

Florida requires business records to pass a specific test to use records as evidence. The foreclosing party should be able to provide your history of payment since the mortgage agreements inception.
Raising A Defense To Foreclosure
There are two different types of foreclosures processes, judicial and non-judicial. Florida has a judicial foreclosure process which means that the foreclosure can only be processed through a civil lawsuit. Certain states allow foreclosures to be initiated outside of the courtroom; which means you will need to file a lawsuit to questioning the legality of the foreclosure. Enlist the help of a foreclosure attorney to present your defense.
With the state of the economy, homeowners are continuously under pressure to keep up mortgage payments while sustaining a living. If you find yourself in the unfortunate position of being faced with foreclosure, contact Gary I. Handin, P.A to assist in preventing the loss of your home.