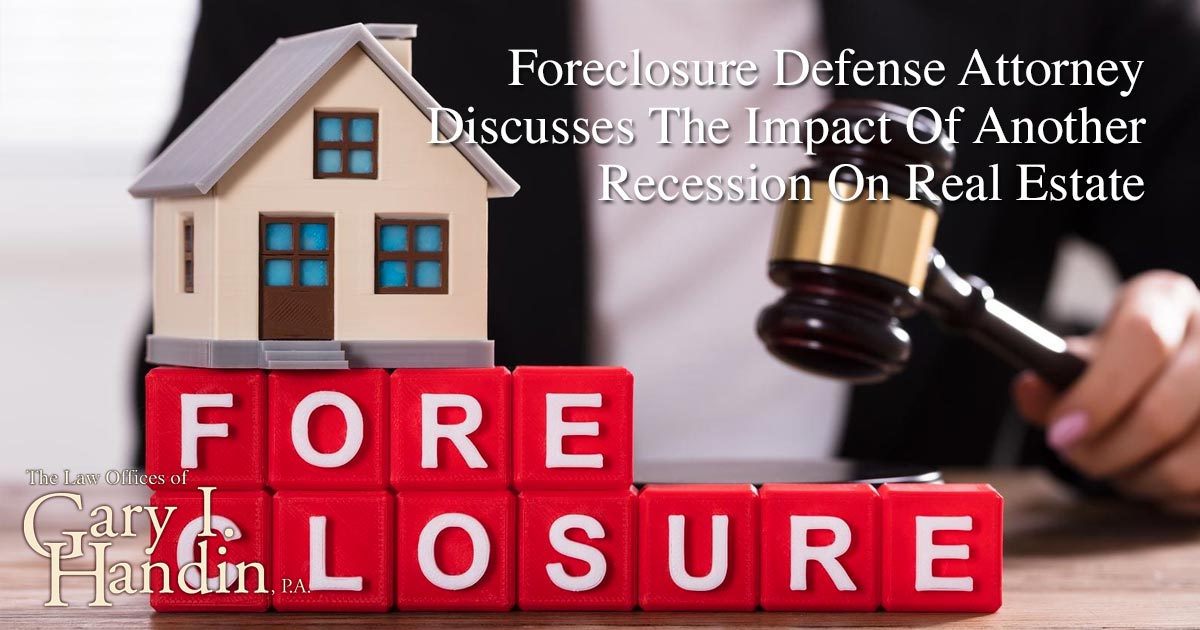 Everyone remembers the devastating effects of the 2008 housing market crash. Now, after 10 years, many people are beginning to question if another recession can be expected soon and how that will affect real estate.
Combine this with changing interest rates, threats of tariffs, and U.S. Treasury bond yield curve inversion and you have many economists beginning to worry. Here we will discuss how foreclosure defense attorney Gary I. Handin feels about the possible impacts.
Understanding Real Estate Recessions
To better understand how another recession will impact real estate, it's important to understand what happened in previous recessions.
Many don't understand that just because people are receiving less money, it doesn't mean that they are no longer in the market to buy a home – most likely, they just need to find a more affordable one.
Recessions Since 1980
Surprisingly, recessions usually don't have negative effects on real estate markets.
Of the five recessions that have occurred since 1980, only the ones that took place in 1990 and 2008 hurt the price of homes. In fact, home prices went up by 4.5% in the 1980 recession, 1.9% in the 1981 recession, and 4.8% in the 2001 recession. This is because having a home and a place to live is a necessity.
Rent Prices In Recession
During recessions, rent prices are even less impacted.
In fact, the cost of rent for a three-bedroom home continued to steadily rise as the buying prices for homes continued to decrease in the 2008 recession, according to the U.S. Department of Housing and Urban Development (HUD). This is likely because there was a higher demand for rental properties, especially those who had to enter foreclosure.
Future Housing Market Predictions
Making predictions about the housing market during another recession is a difficult task because experts say there is no national real estate market. This is because every city has incredibly diverse dynamics, like population and median income, which greatly impact the market.
While some cities may suffer deeply from the recession, other cities may not be affected at all.
Weathering A Recession
Currently, the real estate market has seen a slow-down of activity due to the soaring prices seen throughout the market. This is especially true in densely populated areas with high prices like New York and Los Angeles. Prices are also driven-up as the building of new homes has slowed down throughout the nation. Prices and demand have also been affected by the elimination of the "SALT" deductions on income taxes as a result of the latest federal tax bill passed by Congress. This eliminated the deductions for state and local taxes (SALT) on income tax returns. Such a change may make home ownership in the most populated states, like New York, California, Massachusetts, etc. less attractive.
To make an actual impact on the market, the recession would have to flip the current high demand for homes with a low supply of homes. This could come true if the unemployment rates rise, which could become more possible with export tariffs putting jobs in danger and possibly increasing the prices of building materials.
As the unemployment rates are currently incredibly low and the tariff situation has not been settled, it would take a lot for home prices to drop to recession rates.
Fixed Mortgage Rates
According to consumer financial services company Bankrate, the benchmark for a 30-year fixed mortgage rate is currently 3.83% as of August 12, 2019, while the benchmark for a 15-year fixed mortgage rate is 3.09%.
In comparison, this is much lower than the staggering 18.5% 30-year fixed mortgage rate in 1981. Even if the rates rose above 5%, we would still be seeing historically low rates, making it hard to see a real estate recession.
2008 Recession Versus Today's Possibility
When the last recession occurred, lenders often gave loans to under-qualified people without having them supply evidence of their income or a down payment. This caused people to take out high-rate loans that they would not be able to pay back. Since the 2008 recession, there have been more policies put in place to prevent this.
Though it seems unlikely that the United States will suffer from another recession that impacts the real estate market, stranger things have occurred within the current economy. If you have any questions about a recession or want to take steps to protect yourself from foreclosure, call defense attorney Gary I. Handin, P.A. at 1-877-815-4560.