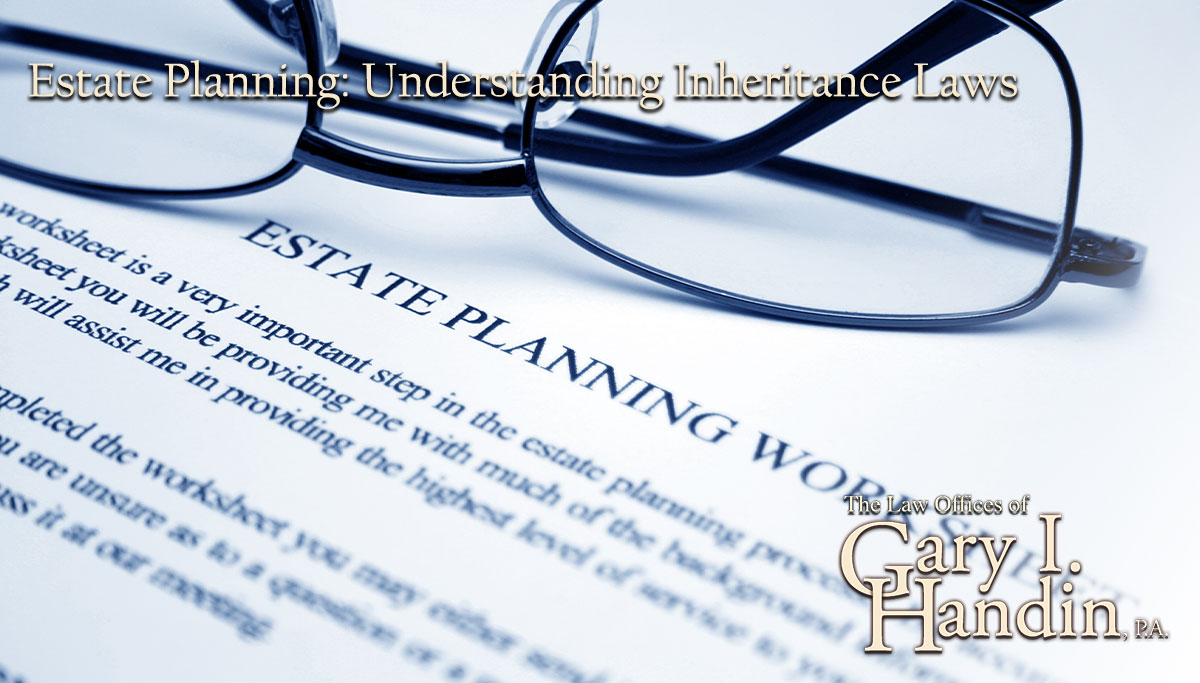 With so much happening in daily life, it's easy to let legal preparations for the future slide to the bottom of the priority list. However, this is not always the wisest decision.
Whether you're looking to set up your estate planning to or you're looking to incorporate a trust, it helps to understand the basics of the will drafting process. An experienced lawyer who's familiar with Florida state laws is essential.
When discussing estate planning, it's a good idea to understand basic inheritance laws.
What Are Inheritance Laws?
Estate planning involves the preparation of your documents to be processed upon your death. It ensures that your loved ones left behind after your passing are taken care of and protected from any legal challenges or financial uncertainties.
There are several ways to inherit assets in Florida, depending on the final arrangements of the deceased. These options include a Will and/or a living trust, but sometimes there is neither to guide the process of asset distribution.
When a death occurs and it is time to allocate assets, the process is largely governed by inheritance laws. These laws affect how property is transferred and distributed to descendants. Inheritance laws are especially applicable when someone passes away without leaving a Will behind (also known as dying intestate).
Florida's Inheritance Laws
Each state has its own specific laws that govern the details of inheritance and estate planning. If there is no Will to dictate where assets are to be distributed, then the following factors are considered:
Florida Has No Inheritance or Estate Tax
In many states, heavy inheritance or estate taxes are applied to the process. When these taxes are applied, the beneficiaries receive substantially less than what their inheritance initially appears to be.
Florida does not impose estate or inheritance taxes. Any assets received are not considered to be regular income. As a result, any inheritance does not impact the beneficiary's taxable income.
Prepare For Probate
There may be probate details that affect the estate planning process. A final Will typically goes through probate court where the Will is verified. An executor is appointed, and the distribution of assets is given the "thumbs up".
A living trust follows a similar but less lengthy procedure. Inheritance laws can be complicated; a qualified probate attorney will be able to help you better understand what steps are needed.
The most important feature of having a Will or Trust is that you get to set forth who gets what. If you do not have a Will or a Trust, the laws of intestacy of Florida will determine the distribution of your assets.
A Surviving Spouse
A portion of the estate will be allocated under certain conditions if the deceased leaves behind a surviving spouse.
For example, the entire estate will be allocated to the surviving spouse if there is no surviving descendant of the deceased. The surviving spouse may receive only one-half of the intestate estate if there are surviving descendants.
Without A Surviving Spouse
Assets will be allocated differently if there is no surviving spouse. If there are descendants of the deceased, then they will receive the estate. However, if there are no descendants, then the estate will be passed to the deceased's father and mother equally. Alternatively, if the deceased's parents are no longer alive, then the siblings will receive the assets.
Remember, Florida inheritance laws with no Will say that the estate will first be passed on to the spouse, then down to children and grandchildren, then to parents, and finally, to siblings and their children.
Get The Help Of An Estate Planning Attorney
Legal matters are more often than not, complicated. It's best to get the guidance of an attorney. They will help navigate the various steps involved in estate planning, and explain all your viable options.
For more than 50 years, Gary Handin has been trusted with estate planning matters by many South Florida residents. Find out how we can help you during this time in your life. Call us at 954-796-9600.
Want more helpful legal information like this? Check out our blog. Also follow Handin Law on Facebook to stay up-to-date.