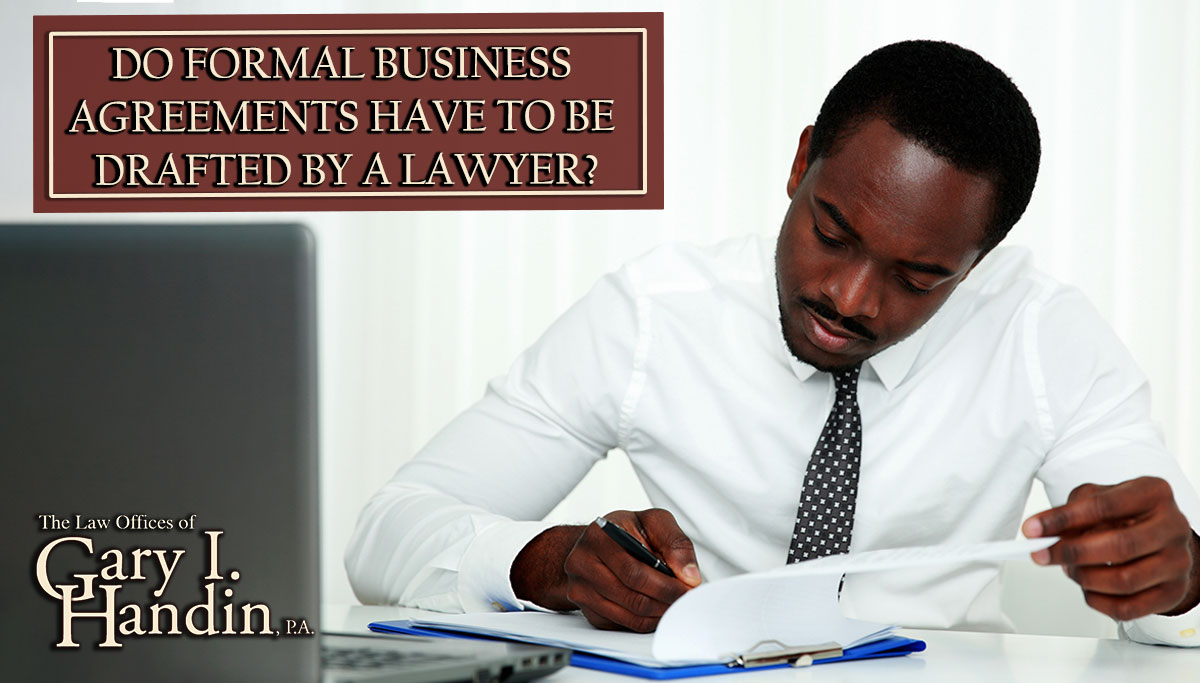 Running a business demands that you juggle several balls. Various tasks such as managing clients, signing off on inventory, and marketing your brand can keep you so busy that you forget to read the small print or take note of details.
When finalizing formal business agreements, it's important to have a lawyer guide you along the process.
Using generic, online contracts and templated forms introduces several dangers that can put your business in a difficult position. Hiring the help of an expert business attorney to assist with formal business agreements is an important step to protect your business against potential liabilities.
Formal Business Agreements
Anyone experienced in business will know the importance of always getting an agreement in writing. Whether you're discussing a delayed payment or a new partnership, regardless of whether it takes legal form as a corporation, partnership or limited liability company, formalizing the agreement with the written word is essential.
A business contract serves as a set of legally binding understandings. While some oral contracts are just as enforceable as written contracts, they are more difficult to prove. A written contract is a more effective recording of the agreement, with clearly outlined consequences, rewards, and repercussions for both parties involved.
In most cases, a business contract will involve certain wording or technical jargon that can be confusing for the average person. An experienced attorney will help to better understand the agreement and how to best protect your growing company against possible harm.
Benefits of a Business Attorney when Drafting Agreements
Hiring a professional business attorney is one of the most effective ways to avoid any contractual risks and make sure that you enter your business agreement with confidence.
So, what are these many benefits offered by an experienced attorney? Consider the following as a starting point.
Invaluable Knowledge and Perspective
Certain areas of law require specific knowledge. For example, a probate attorney will be well-versed in probate proceedings and how to minimize the stress of the difficult process. A business attorney is experienced in business law and the various corporate agreements that are made on a daily basis.
Additionally, they're knowledgeable on the matter and detail-oriented, meaning that you won't have to worry about exposing the business to unknown vulnerabilities. Armed with the knowledge and perspective of a professional, you're able to draft a business agreement that best suits your specific scenario (while being in accordance with state law).
Identify Potential Liabilities
When drafting a business agreement, it's easy to get caught up in the excitement of the deal and forget about the potential risks. For example, you may spend a lot of effort outlining profit share and responsibilities, but neglect to address the worst-case scenario.
With their experience, business lawyers help avoid potential pitfalls by offering a broader perspective and focusing on the details. A lawyer can help draft the agreement so that it addresses ways to fix potential problems and offer an unbiased opinion on how to protect your company from potential liabilities.
Make the Agreement Legally Airtight
There's no point in drafting an agreement that isn't legally enforceable. Failing to meet legal requirements means that the contract is simply words on a page. A lawyer helps to make sure that precise language and grammar are used so that the business is protected by the law.
Being able to navigate the technical legal requirements and formalize the nuanced agreement is essential to a functional contract. Keep in mind that state laws may differ, meaning that a business agreement drafted in California may not necessarily be legally valid in Florida. Instead, you'll have to draft your agreement in accordance with Florida business law.
Risks of DIY Agreements
It may be tempting to search for a generic business agreement online and tweak the contract to best suit the arrangement. However, using a contract template can cost the business a lot of money in the long run.
Consider the following risks of drafting your own business agreement without the help of an attorney.
Imprecise language can lead to messy arguments
Optimism can lead to contractual holes in the case if something goes wrong
Drafting enforceable provisions that are not relevant in the current state implicates the legality of the document
If a dispute occurs, then there's the risk of high litigation costs over poorly worded clauses
Contact an Experienced Florida Business Attorney
Don't tackle a business agreement on your own. Make sure that you take your next step toward growing your business with confidence and call the Law Offices of Gary I. Handin, P.A. at (954) 796 9600. With more than 50 years of experience, we offer legal services that you can count on to protect your business.
Interested in learning more about Florida legal topics? Read our legal blog here.