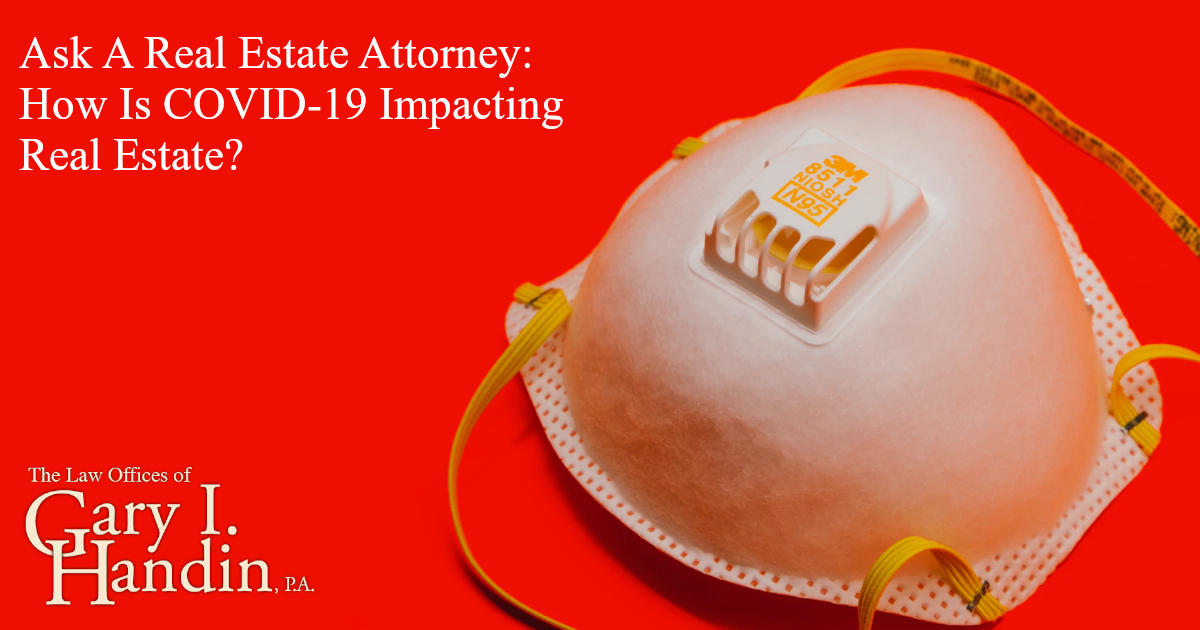 COVID-19 has had an impact on just about every sector of the economy. Real Estate is one of these affected areas. One recent study found that up to 80% of buyers have either delayed their property search or stopped it altogether. When it comes to real estate transactions, everyone is affected; including landlords, tenants, contractors, and borrowers. But just how might it affect you? Let's look at real estate attorney Gary Handin's take on how COVID-19 is affecting transactions.
Force Majeure Clauses
COVID-19 is having a big impact when it comes to real estate delays that result from extraordinary or unforeseeable events. Events that constitute a Force Majeure within the real estate arena can include labor shortages, a national emergency, or even disease, as we are currently experiencing.
These unavoidable delays can apply to three different areas within the real estate sector:
Construction contracts that deal with a contractor's inability to complete a construction project within the stipulated time frame.
Construction loan agreements that prevent a borrower from completing construction within a required time frame
Leases that prevent the landlord or tenant from completing improvements or making repairs within the required periods.
All associated parties need to assess the impact of the relevant provisions and clauses related to Force Majeure when it comes to construction contracts, leases, and loan documents. Whether you're a landlord, tenant, or a lender, the new COVID-19 regulations may well impact your rights under the lease agreement. A knowledgeable real estate attorney will be able to give you detailed legal advice on how a Force Majeure clause might affect you.
MAC Clauses
Within real estate, MAC Clauses, or 'Material Adverse Change' clauses are commonly found in loan term sheets and loan extension terms and conditions. MAC Clauses generally allow for the provision that the lender will not be obliged to close a loan, pay out additional funds, or extend a loan's term. MAC Clauses in real estate can be activated under several circumstances.
If there are material changes to the condition of the property or business, including assets and the financial position of the business
If there is any disturbance occurring in the bank loan market
In the case of litigation moving towards an injunction or damages
When governmental regulation policies adversely affect the borrower or property lender materially
MAC clauses tend to vary significantly, and borrowers have been known to negotiate themselves out of Mac clauses. It's important to seek legal advice on these clauses.
Disclosure Requirements
Property owners and managers have a responsibility to disclose any COVID-19 cases that they are aware of. They need to follow the best course of action in terms of what to do if a person in their building has been diagnosed with COVID-19. It's also their responsibility to ensure that tenants inform their landlords of any suspected cases of COVID-19 amongst all people who enter the space.
It is also the owner's and manager's responsibility to disclose all known or suspected COVID-19 cases to tenants. Landlords need to be careful in disclosing the status of tenants as this is largely unchartered territory from a legal perspective.
In the event of a confirmed or suspected case, the CDC requires that access is restricted to the areas that are affected. With regards to suspected cases, where testing is limited or slow, it is advised the extensive cleaning practices are followed through on. These cleaning costs can be put through as operating expenses
Tenant & Lender Relief
With the severe economic impact that COVID-19 has on many people, landlords and lenders need to determine how to respond to requests for relief. Many tenants and borrowers will be likely to apply for relief and so it's important for all possible solutions to be considered by all parties.
Tenant Relief
Government ordered shutdowns and restrictions on movement are sure to impact the general economic status of many tenants. The decision to grant relief is one that landlords need to make, but they need to consider the legal implications. Temporary relief, such as a rent deferral, must be carefully documented so that it doesn't permanently modify the terms of the lease. Any temporary relief needs to be consistent with the evolving emergency laws and regulations.
Borrower Relief
A joint press release issued by the Federal Reserve on March 23, 2020, signaled to lenders that 'working with borrowers' who were negatively affected by COVID-19 wouldn't necessarily have unfavorable consequences on the lender. Agencies are encouraging financial institutions to work with affected borrowers by reducing troubled debt restructuring plans.
A Real Estate Attorney You Can Trust
Whether you're a lender, a tenant of a contractor, we're all impacted by COVID-19 in some way or other. If you require expert and trusted legal real estate advice, contact the Law Offices of Gary I. Handin at (954)796-9600. We've been Coral Springs trusted real estate attorney for decades and will be able to answer all your questions and put your mind at rest.
Want more helpful legal information like this? Check out our blog. Also follow Handin Law on Facebook to stay up-to-date.